Welcome!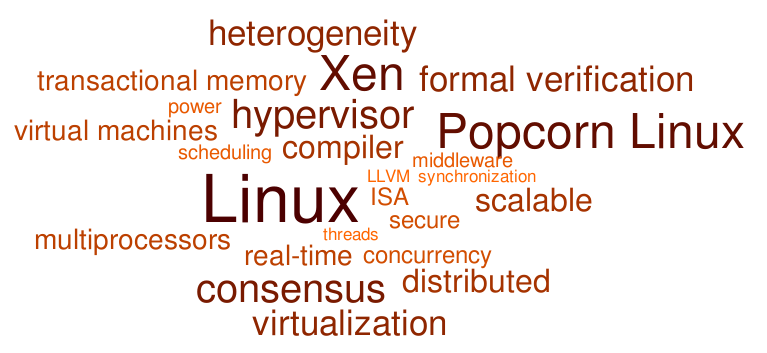 Welcome to the homepage of the Systems Software Research Group in the Bradley Department of Electrical & Computer Engineering at Virginia Tech. The group's general research areas include operating systems, concurrency, distributed systems, real-time systems, virtualization, run-times, compilers, and middleware. A cross-cutting goal is to understand how to build software systems -- broadly defined -- that are high-performance, scalable, reliable, and secure. Ongoing projects include operating systems, hypervisors, and compilers/run-times for multicore and heterogeneous architectures; scalable and secure concurrency control and consensus algorithms; and scalable verification of systems software.
News
Welcome to Prof. Horta!
Dr. Edson Horta
has joined SSRG as a Research Assistant Professor. Welcome aboard Dr. Horta!
Popcorn Linux tutorial at SOSP 2019
Popcorn-ers are presenting a tutorial on the
Popcorn Linux
project at the
2019 ACM SOSP conference
. See
video teaser
!
We are recruiting!
See our recruitment advertisements for various research positions
here
.
Selected Publications
HEXO: Offloading HPC Compute-Intensive Workloads on Low-Cost, Low-Power Embedded Systems, P. Olivier, A. F. Mehrab, S. Lankes, M. Karaoui, R. Lyerly, and B. Ravindran, The 28th ACM International Symposium on High-Performance Parallel and Distributed Computing (HPDC'19), June 24-28, 2019, Phoenix, AZ, USA
Generalized Consensus for Practical Fault Tolerance, M. Garg, S. Peluso, B. Arun, and B. Ravindran, ACM/IFIP International Middleware Conference (MIDDLEWARE 2019), December 9-13, 2019, UC Davis, CA, USA
Breaking the Boundaries in Heterogeneous-ISA Datacenters, A. Barbalace, R. Lyerly, C. Jelesnianski, A. Carno, H. Chuang, V. Legout, and B. Ravindran, 22nd ACM International Conference on Architectural Support for Programming Languages and Operating Systems (ASPLOS 2017), April 8-12, 2017, Xi'an, China