Welcome!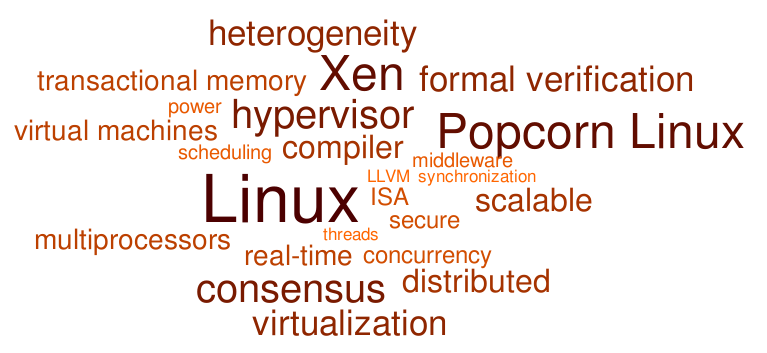 Welcome to the homepage of the Systems Software Research Group in the Bradley Department of Electrical & Computer Engineering at Virginia Tech. The group's general research area is computer systems, with a focus on concurrency, distributed systems, operating systems, compilers/run-times, real-time systems, and verification. A cross-cutting goal is to understand how to build software systems -- broadly defined -- that are high-performant, secure, reliable, energy-efficient, and real-time. Ongoing projects include systems software for emerging heterogeneous architectures, verification of systems software, secure operating systems, and concurrency control abstractions and algorithms.
News
Our newly minted PhDs!
Our PhD students Xiaoxin (Cindy) An who worked on the
LLRM
project, and Ho-Ren (Jack) Chuang, a
Popcorn Linux
hacker, have successfully defended their dissertations. Jack has joined ByteDance in Mountain View, CA. Congratulations and best wishes Dr. An and Dr. Chuang!
We are recruiting!
See our recruitment advertisements for various research positions
here
.
Selected Publications
Formally Verified Lifting of C-compiled x86-64 Binaries, F. Verbeek, J. Bockenek, Z. Fu, and B. Ravindran, ACM SIGPLAN Conference on Programming Language Design and Implementation (PLDI 2022), June 13-17, 2022
Adelie: Continuous Address Space Layout Re-Randomization for Linux Drivers, R. Nikolaev, H. Nadeem, C. Stone, and B. Ravindran, 27th ACM International Conference on Architectural Support for Programming Languages and Operating Systems (ASPLOS 2022), February 28-March 4, 2022, Lausanne, Switzerland
Xar-Trek: Run-time Execution Migration among FPGAs and Heterogeneous-ISA CPUs, E. Horta, H-R. Chuang, N. VSathish, C. Philippidis, A. Barbalace, P. Olivier, and B. Ravindran, 22nd ACM/IFIP International Middleware Conference (MIDDLEWARE 2021), Quebec, Canada, December 6-10, 2021