Welcome!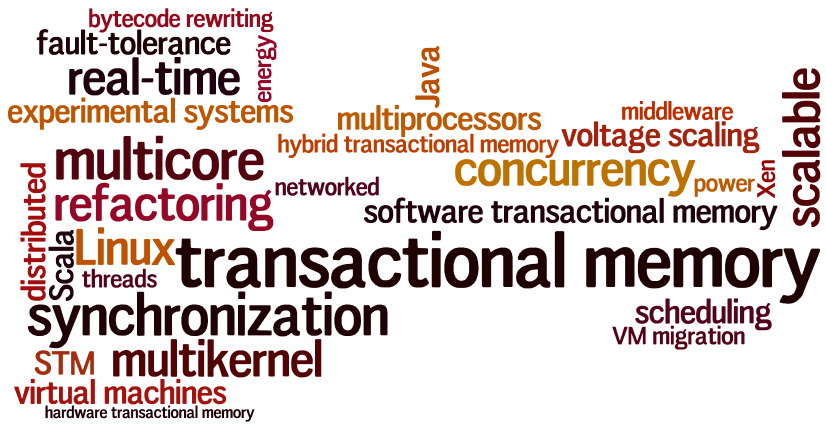 Welcome to the homepage of the Systems Software Research Group in the Bradley Department of Electrical & Computer Engineering at Virginia Tech. The group's general research areas include operating systems, distributed systems, real-time systems, virtualization, language run-times, compilers, middleware and networks. A cross-cutting goal is to understand how to build software systems -- broadly defined -- that are scalable, efficient, and reliable. Ongoing projects include transactional memory for multicores and distributed systems, scalable operating systems for multicores, multicore real-time Linux, automated concurrency refactoring, and virtual machine migration.
News
Kevin Burns Defends Thesis
Kevin Burns successfully defended his MS thesis
Real-Time Hierarchical Scheduling of Virtualized Systems
on September 3, 2014. Kevin will be joining Cisco in San Jose, CA. Best wishes, Kevin!
---
New Research Assistant Professors
Roberto Palmieri
and
Antonio Barbalace
are joining VT (and SSRG) as Research Assistant Professors. Congratulations and a warm welcome to our new professors!
---
PhD Defense
Sebastiano Peluso defended his
PhD thesis
at "Sapienza", University of Rome, Italy. Congratulations Sebastiano!
---