Welcome!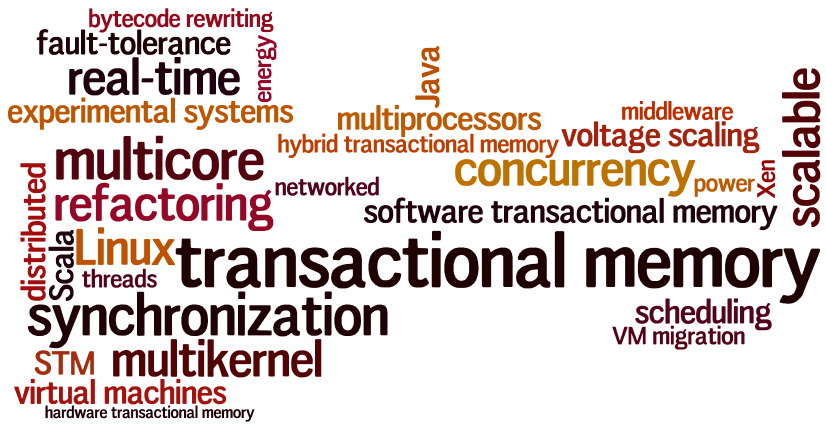 Welcome to the homepage of the Systems Software Research Group in the Bradley Department of Electrical & Computer Engineering at Virginia Tech. The group's general research areas include operating systems, distributed systems, real-time systems, virtualization, language run-times, compilers, middleware and networks. A cross-cutting goal is to understand how to build software systems -- broadly defined -- that are scalable, efficient, and reliable. Ongoing projects include transactional memory for multicores and distributed systems, scalable operating systems for multicores, multicore real-time Linux, automated concurrency refactoring, and virtual machine migration.
News
Alex successfully defends his PhD thesis
Our PhD student, Alex Turcu has successfully defended his
PhD thesis
. Alex will be joining Google in New York, starting 1/26/15. Congratulations and best wishes Alex!
---
Saif Ansary's paper accepted at 2015 ASPLOS ACM Competition
Our PhD student Saif's
short paper
is accepted at
2015 ASPLOS ACM Student Research Competition
. Congratulations Saif!
---
New software release from the HyFlow team
The HyFlow team has released
hyflow-go
: a geo-replicated, main-memory, highly consistent datastore. Kudos folks!
---