Welcome!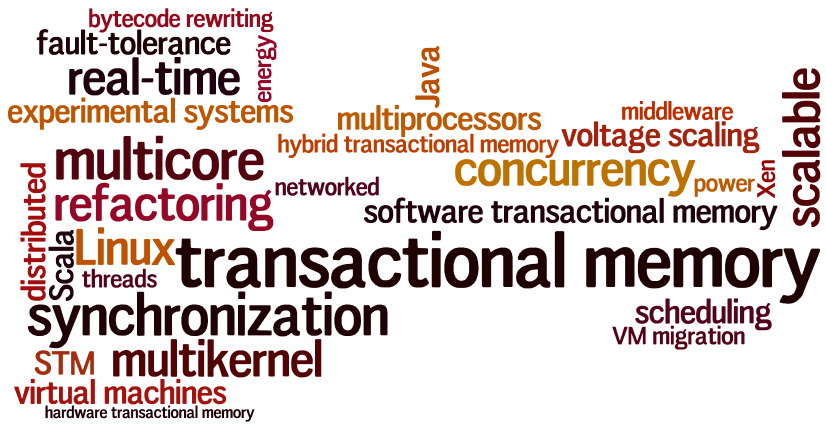 Welcome to the homepage of the Systems Software Research Group in the Bradley Department of Electrical & Computer Engineering at Virginia Tech. The group's general research areas include operating systems, concurrency, distributed systems, real-time systems, virtualization, run-times, compilers, and middleware. A cross-cutting goal is to understand how to build software systems -- broadly defined -- that are scalable, efficient, and reliable. Ongoing projects include transactional memory for multicores and distributed systems, scalable operating systems for multicores, automated concurrency refactoring, and real-time virtualization.
News
Congratulations new graduates!
Our latest graduates are Utkarsh Pandey, Mohamed Saad, and Yuzhong Wen. Mohamed successfully defended
his PhD dissertation
in May and joins Alexandria University, Egypt as a faculty member. Utkarsh defended
his MS thesis
in August and joins Hughes Networks in Washington DC. Yuzhong defended
his MS thesis
in June and joins Qualcomm in San Diego. Congratulations and best wishes guys!
Sebastiano wins 2016 Carter PhD Dissertation Award!
Our postdoc
Sebastiano Peluso
has won the
2016 William C. Carter PhD Dissertation Award
. The award will be presented at the
2016 DSN conference
. The ECE department's press release is
here
. Congratulations Sebastiano!
New Postdoc Positions
Our
Popcorn Linux
project is recruiting multiple OS postdoc positions.
Details are here
.