Welcome!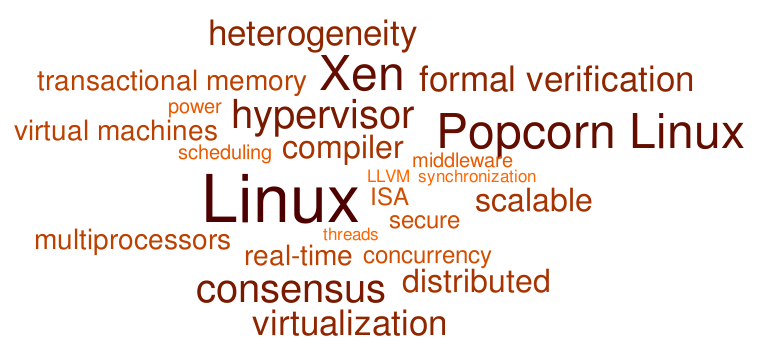 Welcome to the homepage of the Systems Software Research Group in the Bradley Department of Electrical & Computer Engineering at Virginia Tech. The group's general research areas include operating systems, concurrency, distributed systems, real-time systems, virtualization, run-times, compilers, and middleware. A cross-cutting goal is to understand how to build software systems -- broadly defined -- that are scalable, efficient, and reliable. Ongoing projects include operating systems, hypervisors, and compilers/run-times for heterogeneous architectures; scalable concurrency control techniques; scalabale verification of systems software; and automated concurrency refactoring.
News
Josh defends M.S. thesis
Our direct-Ph.D. student, Joshua Bockenek, successfully defended
his M.S. thesis
on December 8th, 2017. Congratulations Josh!
Selected Publications
Breaking the Boundaries in Heterogeneous-ISA Datacenters, A. Barbalace, R. Lyerly, C. Jelesnianski, A. Carno, H. Chuang, V. Legout, and B. Ravindran, 22nd ACM International Conference on Architectural Support for Programming Languages and Operating Systems (ASPLOS 2017), April 8-12, 2017, Xi'an, China
Swift Birth and Quick Death: Enabling Fast Parallel Guest Boot and Destruction in the Xen Hypervisor,V. Nitu, P. Olivier, A. Tchana, D. Chiba, A. Barbalace, D. Hagimont, and B. Ravindran, 13th ACM SIGPLAN/SIGOPS International Conference on Virtual Execution Environments (VEE 2017), April 8-9, 2017, Xi'an China
Making Fast Consensus Generally Faster, S. Peluso, A. Turcu, R. Palmieri, G. Losa, B. Ravindran, The 46th Annual IEEE/IFIP International Conference on Dependable Systems and Networks (DSN 2016), June 28 - July 1, 2016, Toulouse, France